Fangoria's 101 Best Horror Movies You've Never Seen - Adam Lukeman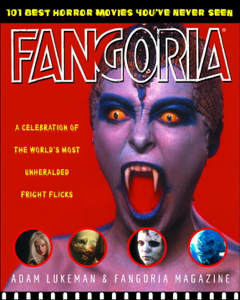 A FEAST OF FRIGHTFUL FLICKS WAITING TO BE REDISCOVERED
As the leading name in the world of horror, Fangoria magazine has been the source of information for fans of fright flicks for more than twenty years—covering feature films, video games, comic books, collectibles, and all aspects of horror entertainment. Working closely with Fangoria's experts, including Editor in Chief Anthony Timpone, Adam Lukeman has compiled a must-have guide for casual horror fans and hardcore horror junkies with Fangoria's 101 Best Horror Films You've Never Seen.
With a brief synopsis for each of the included films, lists of cast and crew, "Terror Trivia," and little-known facts about these lesser-known but must-see gems, Fangoria's 101 Best Horror Films You've Never Seen offers a feast of gruesome information. Featured here are flicks that were dumped by their distributors or were initially flops, like Cherry Falls, Manhunter, and Pumpkinhead, foreign winners such as Cronos, The Vanishing, and Funny Games, and straight-to-video sleepers waiting to be discovered, including Shadowbuilder, Jack Be Nimble, and Nomads. There are even surprise entries directed by industry giants—movies like George A. Romero's Day of the Dead, Brian De Palma's Sisters, or Dario Argento's Opera—that are frequently overshadowed by the filmmakers' other, better-known works but are worthy of further examination.
Entertaining and informative, Fangoria's 101 Best Horror Movies You've Never Seen offers more than a hundred reasons to look beyond the often ho-hum Hollywood hype fests . . . when you're really in the mood to feel your flesh crawl.